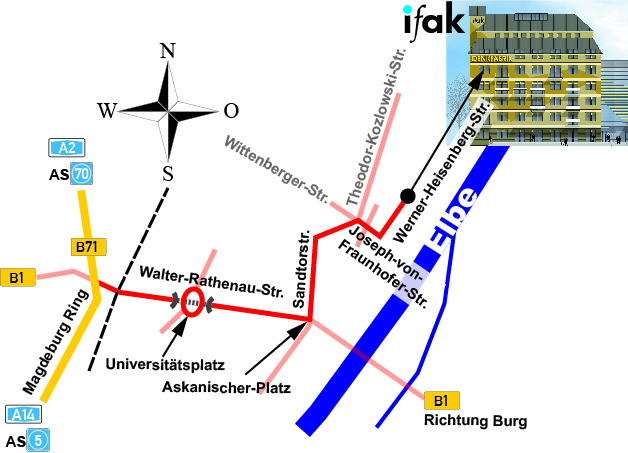 ifak - Institut für Automation und Kommunikation e.V. Magdeburg
Denkfabrik im Wissenschaftshafen
Werner-Heisenberg-Str. 1
39106 Magdeburg
Tel.: 0391 990140
Fax: 0391 9901590
E-Mail
Internet: www.ifak.eu
Directions
By car
Motorway A2:   Exit 70 "Magdeburg Zentrum"
Motorway A14: Exit 5 "Magdeburg-Sudenburg"
continue on the city bypass "Magdeburger Ring" until exit City Ring Nord B1.
take direction Burg/Dessau on the B1. Drive through tunnel at "Universitätsplatz", cross following 
intersection, then turn left onto Sandtorstr. at Askanischer Platz. 
The Port of Science "Wissenschaftshafen" is signposted.
From direction Burg/Dessau:
B1:  After the two bridges crossing the river Elbe, turn right into Sandtorstr.
Parking spaces can be found on the back of the building "Denkfabrik".
By train
From Magdeburg central station to ifak by tram "Straßenbahn"  
(estimated 30 mins for your journey).
Use main exit of the central station
Use tram until stop "Opernhaus" at "Universitätsplatz" (several lines possible) 
Transfer to tram for direction "Messegelände" or "Herrenkrug", continue for 2 stations until stop
"Askanischer Platz" or transfer to bus for direction "Wissenschaftshafen" 
From tram stop "Askanischer Platz" continue on foot: turn into Sandtorstr., passing the Max Planck
Institute until you reach the next junction. Then turn right into the Joseph-von-Fraunhofer-Str. and
walk further to Werner-Heisenberg-Str (Please calculate approx. 10 min on foot). 
Hints for the use of public transport:
In the area Damaschkeplatz / main station may be due to a major construction site to short-term timetable changes or detours. Please visit the Magdeburger Verkehrsbetriebe (www.mvbnet.de) for current travel options by tram and bus.
Daily updated information about the newest construction sites in Magdeburg can be found here: http://www.movi.de/baustellen/
If you decide to take a taxi from the main station please consider travelling time of approx. 10 min and costs of approx. 10.00 €.
For users of a navigation system
If your device does not recognise the Werner-Heisenberg-Str., then enter the name "Sandtorstr./corner
Theodor-Kozlowski-Str." instead. At the junction, turn right into the Port of Science "Wissenschaftshafen".