Employees of the Institute are active in various national and international expert committees, which are listed alphabetically below. For easier understanding, preferably for readers from other fields, a short explanation has been attached to each entry.
Car2Car Communication Consortium
Das ifak ist Mitglied seit 2009 und wird durch Herrn O. Czogalla und Herrn S. Naumann vertreten. 
CARISSMA - Forschungs- und Testzentrum der Hochschule Ingolstadt
Seit 2010 ist Herr Prof. U. Jumar Mitglied im wissenschaftlichen Beirat.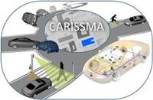 CDS - Forschungszentrum "Dynamische Systeme" der Otto-von-Guericke-Universität Magdeburg
Prof. U. Steinmann ist Mitglied im Direktorium des CDS.
CDS - research centre "Dynamic Systems" of the Otto-von-Guericke-University Magdeburg
Prof. U. Steinmann is a member of the Board of  Directors.
CEESA – Cluster für Erneuerbare Energien Sachsen-Anhalt
Das ifak kooperiert seit 2008.